Welcome Event for Ukrainian Students at FAU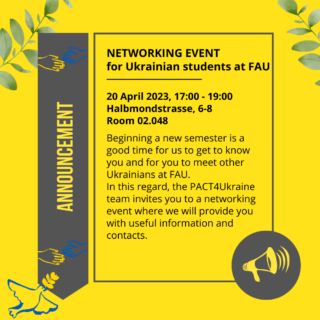 Dear Ukrainian students at Friedrich-Alexander-Universität Erlangen-Nürnberg,
Beginning a new semester is a good time for us to get to know you and for you to meet other Ukrainians at FAU.
In this regard, the PACT4Ukraine team invites you to a networking event where we will provide you with useful information and contacts. Snacks and drinks will be offered.
Date: 20 April 2023 (Thursday)

Time: 17:00 – 19:00

Location: Erlangen, Halbmondstrasse 6-8, Room 02.048

For better preparation and organizing, please confirm your attendance to fau4ukraine@fau.de.
If you have specific ideas or topic requests for the event please feel free to contact us.
Looking forward to meeting each of you!