Taras Shevchenko National University of Kyiv (KNU)
Taras Shevchenko National University of Kyiv
Taras Shevchenko National University of Kyiv (KNU) – founded in 1834 – is a classic university with a distinct research profile, and the leading contemporary academic and educational hub of Ukraine. Almost 200 years old, the University has combined quality education and modern science, tradition and innovation. With the independent Ukrainian nation arising, the University is facing new challenges and responsibilities. The academic experts of the future can be identified by a thorough professional knowledge and the ability to think creatively, with an understanding of the massive responsibility to be taken when working at the leading-edge of academic thought. Only a university with a long tradition of achievement and success both in teaching and in research could cope with such a missio
KNU encompasses 12 faculties, 10 educational and scientific institutes, 1 educational and scientific centre, 2 colleges, 1 lyceum, and several preparatory departments. More than 25,000 students including 2,000 foreign students are currently enrolled in over 600 training and scientific programmes in 25 fields and 59 disciplines taught by more than 2,000 teachers.
KNU occupies leading positions in national and international rankings among higher education institutions in Ukraine and is among the TOP 50 universities in Eastern Europe. The university has over 400 partner universities and currently maintains relations and, in some cases, student exchange programs with universities of more than 50 countries.
Among the graduates of Taras Shevchenko National University of Kyiv are well-known scientists and public officials, including Leonid Kravchuk and Petro Poroshenko who have both been president of Ukraine.
You can find more information on the KNU website.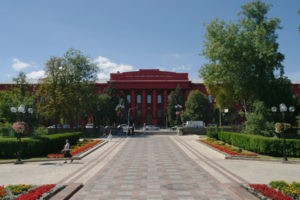 The famous red building of Taras Shevchenko National University of Kyiv (KNU) (image: KNU)