KNU – FAU Summer School 2023 «Democracy Building in Times of War»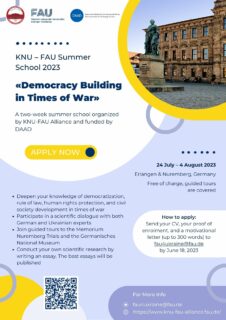 When: 24 July – 4 August 2023
Where: Erlangen & Nuremberg, Germany
Under the auspices of the KNU-FAU Alliance and with DAAD financing, the Friedrich-Alexander-Universität Erlangen-Nürnberg will host a two-weeks summer school for 12 KNU (Bachelors, Masters) and 12 FAU/EELISA students in Erlangen and Nuremberg, Germany.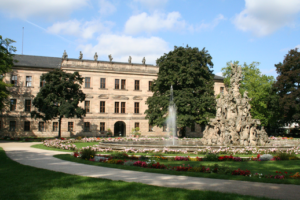 In the framework of the KNU-FAU Summer School, students will have an opportunity to be engaged in an interdisciplinary scientific dialogue with both German and Ukrainian academics, experts, politicians, and representatives of civil society. Each day will be under the umbrella of a specific thematic focus (e.g. democratization processes, rule of law, human rights protection, civil society development in times of war, etc.).
Publicizing the scientific results of the summer school, students have the choice of various topics to work on in groups for two weeks, with access to the FAU library and the opportunity to ask questions to experts during the Summer School. The results will be discussed with experts and academic supervisors, and after that, the best essays will be published.
Moreover, Summer School attendees will be encouraged to visit Nuremberg, the Nuremberg Trials Memorium, the Germanisches National Museum, and the Human Rights Street to gain a deeper understanding of the topic.
Participating in the Summer School is free of charge for all students. If you are interested in participating in KNU – FAU Summer School, please send your CV, your proof of enrolment, and a motivational letter (up to 300 words) to fau4ukraine@fau.de by June 18, 2023.
Please be informed that a good knowledge of English is necessary for participation.
Supported by: